Eastern Irrigation District News
Post Date: October 27, 2021
Applications For Community Grazing Privileges
The Eastern Irrigation District is announcing that the following Grazing Associations are accepting applications for grazing privileges for the 2022 Season.
Application forms, entry date, breed of bull and other entry requirements may be obtained by contacting the association representative listed in the ad linked below.
Click HERE to to view the complete ad for Applications For Community Grazing Privileges.
Post Date: October 08, 2021
Alberta Agricultural Water Program
The Water Program directly supports the enhancement of agricultural water management for continued growth and long-term success of the agriculture industry.
Click HERE to to go to the Alberta Agricultural Water Program web page.
Post Date: August 25, 2021
Water Shut-Off Date
Please note the the water shut-off date for 2021 will be October 7.
Please be sure all of your irrigation needs have been met by that date.
If you have any questions, please contact the EID Office.
Have a good fall!
Post Date: March 10, 2021
EID 2021 Annual General Meeting
Video Recording from March 09, 2021 Annual General Meeting
Post Date: February 22, 2021
Open Letter to Alberta Irrigators
Dear Alberta Irrigators:
When the Canadian Pacific Railway engineering department completed the Brooks Aqueduct in 1914, the largest structure of its kind in North America at the time, it spearheaded a flood of settlement into Southern Alberta. With this new wave of settlers came an entrepreneurial spirit and culture of ingenuity, hard work, and determination. Alberta's Irrigation Districts were formed to ensure the continued success of Southern Alberta farmers along with responsible land stewardship and water conservation practices. Alberta's extensive irrigation networks are now responsible for 20% of our province's value-added foods GDP and support over 56,000 jobs - an impressive legacy for Alberta's pioneers.
Alberta's Government recognizes the critical role agriculture plays as a key driver for post-COVID-19 economic recovery and growth. Irrigation also plays a role in supporting other sectors who provide materials, equipment, and expertise as well as ensuring water security for municipalities, industrial applications, and recreation.
The recently announced historic $815-million irrigation infrastructure investment is one way to honour the legacy of Alberta's irrigators, past and present. This expansion is a key part of Alberta's Recovery. Together, these projects have the potential to expand irrigation by over 200,000 acres, contribute an additional $430 million a year to Alberta's GDP, and create over 8,000 local jobs.
Albertans have experienced all sorts of challenges over the last year and many sectors of our economy have been in a holding pattern. Within two years, our province's agriculture sector attracted $527 million in new investments creating 981 jobs in Alberta's value-added food sector. These examples of growth exemplify the grit and determination of Alberta's producers no matter what's thrown at them.
Sincerely,
Honourable Devin Dreeshen
Minister, Agriculture and Forestry
Post Date: March 11, 2020
PUBLIC NOTICE
ENVIRONMENTAL PROTECTION AND ENHANCEMENT ACT
EASTERN IRRIGATION DISTRICT
NOTICE OF DECISION
In accordance with section 68 of the Environmental Protection and Enhancement Act, Eastern Irrigation District has been issued an approval by Alberta Environment and Parks for a renewal of an approval to apply pesticides within 30 meters of an open body of water under specific conditions for routine maintenance and operation of irrigation infrastructure. The operation is located at 550 Industrial Road West Brooks, Alberta
The Environmental Protection and Enhancement Act may provide you a right of appeal against this decision to the Alberta Environmental Appeals Board. You should note that there are strict time lines for filing an appeal dependent on the type of appeal. If you choose to appeal this decision, please contact:
Office of the Registrar of Appeals
The Environmental Appeals Board
3rd Floor, 10011 - 109 Street
Edmonton, Alberta T5J 3S8
Telephone: (780) 427-6207
Fax: (780) 427-4693
A Notice of Appeal must be submitted within 30 days of the date of this notice. Please quote Application No. 012-10572
The Public Notice of this application will also be posted on the Department's website at https://avw.alberta.ca/PublicNoticesViewer.aspx.
Copies of the application can be obtained from:
Attention: Ivan Friesen
Eastern Irrigation District
Telephone: 403-362-1400
Fax: 403-362-6206
Post Date: January 09, 2020
Farmer-led research engagement (Province of Alberta)
Provide your input on the future of agricultural research in Alberta by January 31, 2020.
The Alberta Government is looking at Farmer Led Research so they wish the farmer/rancher/producer to have input on who does the research, who pays for it and how it should be done.
The website for the survey, and for information about external consultation sessions, is:
https://www.alberta.ca/farmer-led-research-engagement.aspx
Post Date: October 21, 2019
Judicial Review of EID vs Irrigation Council Appeal Panel
Memorandum of Decision
Please click here to view the letter from the Board of Directors and the complete Court ruling.
Post Date: June 7, 2019
Alberta Irrigation Management Model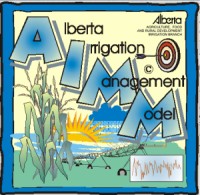 The Alberta Irrigation Management Model (AIMM) is a decision support tool software package that assists irrigation producers with their irrigation scheduling decisions. The AIMM software runs as a Windows based program and has a agronomic record keeping component incorporated into the program as well. AIMM acquires the climate parameters required to calculate Evapotranspiration (ET) and irrigation recommendations from the IMCIN website. Producers simply choose the station that is closest to their irrigation field from any of the current climate stations on-line.
Link to AIMM web site: Alberta Irrigation Management Model
Alberta Agriculture Weather Page (Mobile Friendly)
Post Date: October 11, 2018
Irrigation Council Appeal Update
Water Users:
In an effort to keep our Water Users updated as to the Irrigation Council Appeal matter, please see the attached summary of correspondence and events, as well as the affidavit filed by the Chairman of the Board of Directors.
We will continue to keep you informed. Please direct questions or concerns to Ivan Friesen, General Manager (362-1400).
Click HERE to view the complete Irrigation Council Appeal Update.
Post Date: April 10, 2018
Notice of Irrigation Council Appeal Panel
Water Users:
In an effort to keep our Water Users informed of a very important topic that may impact our District, please find attached the recent Irrigation Council Appeal Panel Notice of Decision.
We will continue to keep you informed on this matter. Please direct further questions or concerns to Ivan Friesen, General Manager (362-1400).
Click HERE to view the complete Notice of Irrigation Council Appeal Panel.