Eastern Irrigation District News
Post Date: August 31, 2023
HIGH FIRE HAZARD
A continued lack of precipitation and above average temperatures has created a high fire hazard in Eastern Irrigation District (EID) community pastures.
Continued public access to EID lands is dependent on everyone using extreme caution to prevent grass fires.
To help reduce the risk of a grass fire follow the EID Base Public Access Guidelines as well as the additional public access restrictions below.
Effectively immediately:
Public use of automobiles is restricted to

designated routes or established roads & trails that are graveled, graded and/or mowed.
Automobiles are permitted to

park on the mowed shoulder

of designated routes or established roads & trails only. Do not block traffic.
Please refrain from smoking while on EID lands.
It is strongly recommended to carry some type of fire extinguishing device in all automobiles.
Please remember access to these private lands is a privilege not a right.
For more information call the EID office 403-362-1400.
Post Date: Augusrt 22, 2023
2023 Water Shut Down Date
Please Note: Early water shut down date!
All irrigation, including farmyards and acreages, will cease on September 25th.
A minimum flow in canals and pipelines will be maintained until October 5th for cattle and pond filling needs.
Municipal residents are encouraged to manage their outdoor water requirements on a similar timeline.
All diversion after October 5th will be directed to District reservoirs to begin restoring the reservoirs to normal winter levels for the 2024 irrigation season.
Please contact the EID at 403-362-1400 if you have any questions.
Post Date: July 26, 2023
Thank You to All Water Users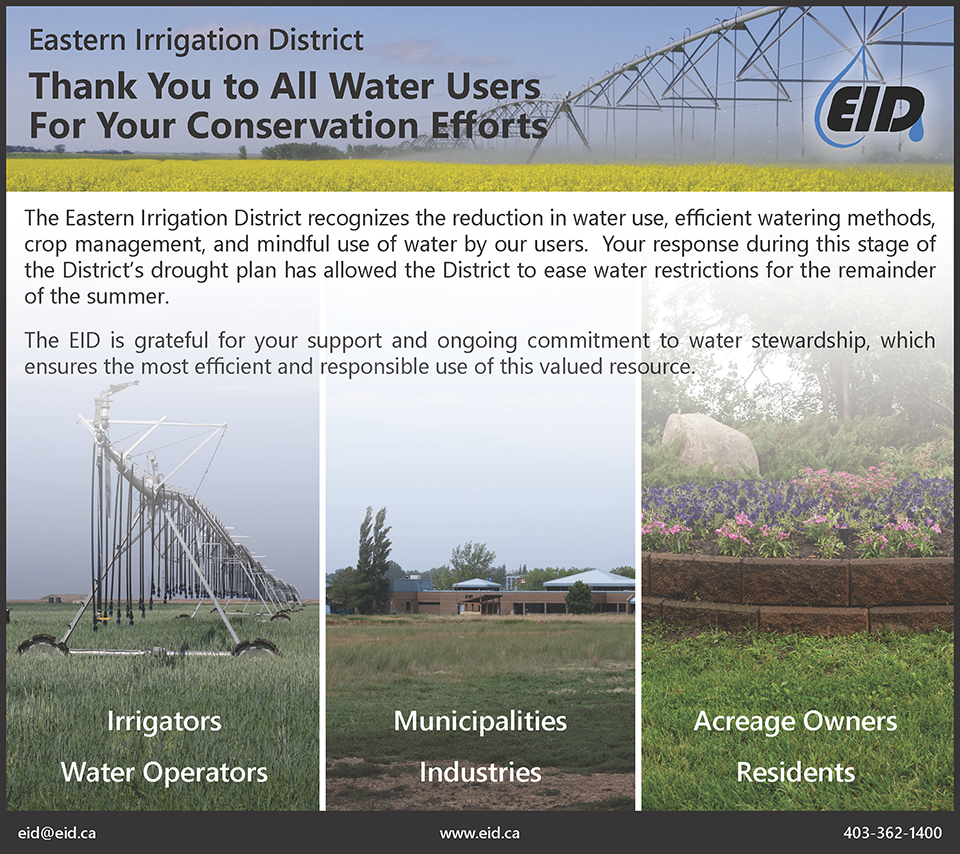 Post Date: June 28, 2023
Chemical Treatment of North Bantry Canal
The Eastern Irrigation District will be applying treatment to the open water in the North Bantry Canal from SE-02-20-13W4 to the bottom end at NW-01-20-13W4 to control aquatic vegetation and algae on Friday, June 30, 2023. During the application no water is permitted to enter systems used to supply dugouts or ponds used for livestock watering or containing stocked fish. The application is not harmful to crop irrigating. Organic irrigators should be aware of any application which may affect organic crop certification. For more information, questions or concerns do not hesitate to contact Operations Manager Brent Kroschel at 403-363-5606, North Division Superintendent Scott Beddows at 403-363-5607 or your Ditchrider, Scott McInnis at 403-363-5639.
Post Date: June 19, 2023
Chemical Treatment of Canals
The EID has seen successful results in implementing a scheduled chemical treatment program for canal reaches prone to aquatic weed issues. Following is the 2023 schedule, subject to weather conditions, for canals in this program:
Tilley Main Canal:
May 10
May 24
June 7
June 21
July 5
July 19
August 2
August 16
North Branch Canal:
May 17-18
May 31-June 1
June 14-15
June 28-29
July 12-13
July 26-27
August 9-10
August 23-24
One Tree Canal:
May 11
May 25
June 8
June 22
July 6
July 20
August 3
August 17
17-G Springhill:
May 25
June 8
June 22
July 6
July 20
August 3
August 17
August 31
Rolling Hills Main and Secondary A Canals:
June 28
July 14
August 31
Bow Slope and 17 Bow Slope Canals:
16 Springhill
Antelope Creek Canal
H West Bantry
Post Date: October 20, 2022
Info