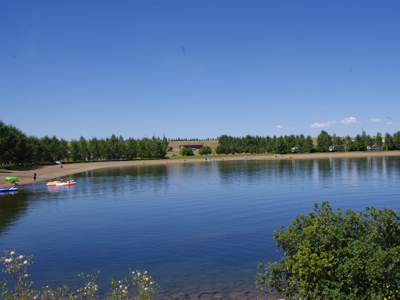 About the Rolling Hills Reservoir Campground
Contact during the camping season: 403-363-5603 (8am to 8pm)
Contact during the off season: 403-362-1400
An "oasis" on the prairie this campground, located on Rolling Hills Reservoir approximately 20 kilometers south of Brooks, Alberta is owned and operated by the Eastern Irrigation District. Rolling Hills Reservoir is one of thirteen water storage reservoirs which form part of the Eastern Irrigation District's irrigation conveyance infrastructure. In 2002 during enhancement activities to increase the storage capacity of the Reservoir, the Eastern Irrigation District constructed the campground as a community investment initiative to benefit the general public.
Offering many amenities, this established campground is well treed with large electrified sites containing graveled pads and a grassy area in each. A modern marina consisting of a boat launch and boat slips allowing access to the reservoir for water related activities.
Check-in time is 3 pm and check-out time is 12 pm. For security reasons, the main gate is locked nightly at 11:00pm with a one-way gate allowing people to leave the campground after 11:00pm.
A total of 110 sites are available as daily use sites. The remaining 35 sites are seasonal lease sites designated through an annual campsite draw at the beginning of April. Two group camping areas, on the south end, may be reserved up to two seasons in advance.
Note: Individual campsites may not be reserved but campers may call the Campground Office at (403) 363-5603 to hold an available site the same day, with credit card payment, but must show up by 8:00pm that evening to claim the site or the site will be forfeited.
Eligible water users may reserve a site 48 hours in advance, with payment by credit card. The camper on site must be the water user who made the reservation and specific sites cannot be reserved unless a preferred site becomes available at time of check-in.
We invite you to come for a visit, enjoy the sun, bring your boat, and enjoy one of the many benefits of irrigated agriculture.